A platform that allows you to easily sell or buy a new car.
Publish cars up for auction, get new customers, increase sales!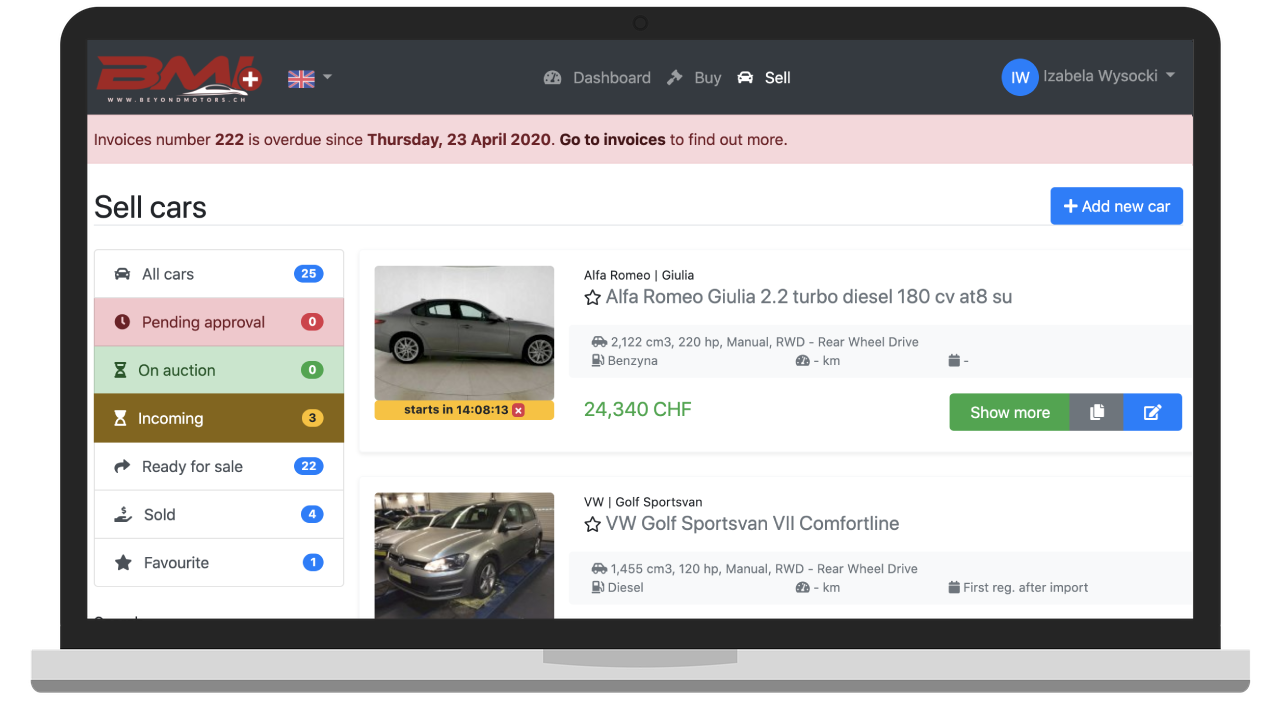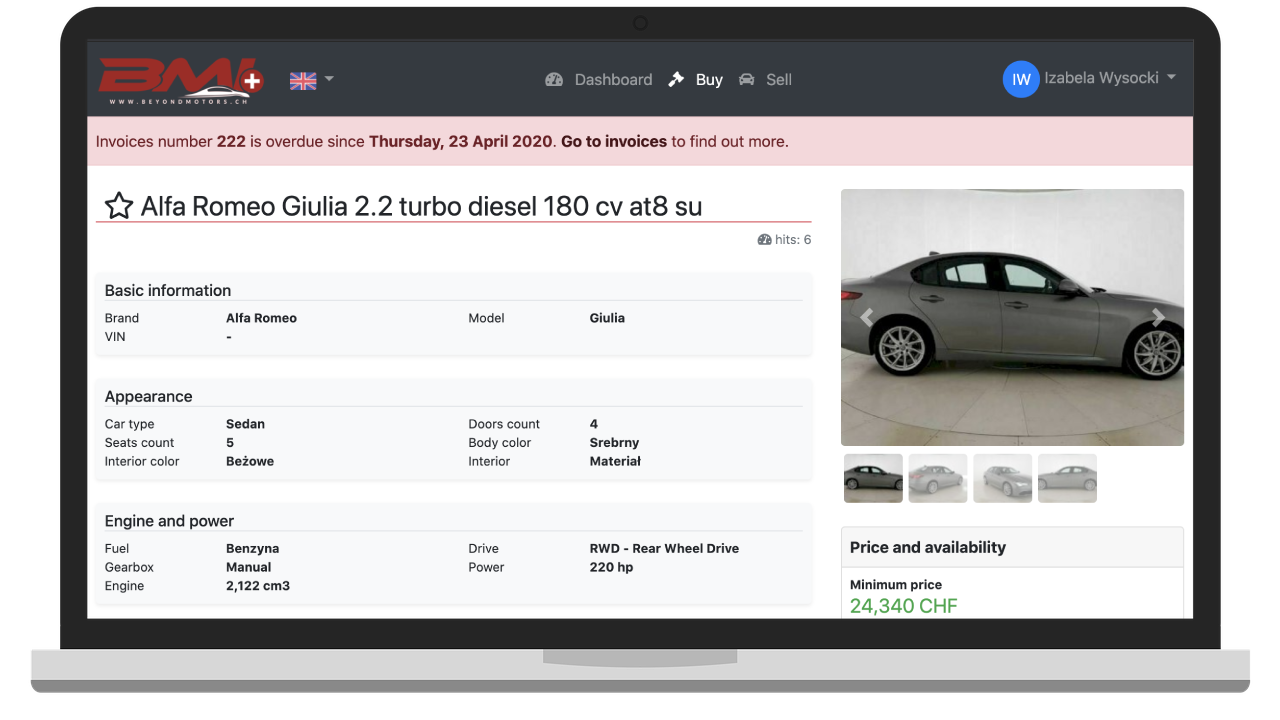 New auction every week

Display selected cars at the upcoming auction, set minimum prices and additional costs. Find a customer and increase your sales.
Attractive commission system
No hidden charges. In our price list you will find information on how much you will pay for the display and sale or purchase of a car, and a specific amount will appear at the bidding stage.
Comprehensive and intuitive interface
The easy-to-use interface allows you to manage your cars and their sales:

Add multiple photos and descriptions in different languages,
duplicate similar cars,
auction multiple cars in one click.
Immediate notifications
You will be informed about everything that happens at your auctions.

The system sends out notifications about, among others:
new bids placed on your cars,
pending offers,
to end auctions and car sales.
Win foreign clients
The system is available in many languages. All dictionary data, such as car type, drive, gearbox are automatically translated. You can add additional descriptions in all available languages.
Predictable course of the auction
Each auction is held on the same basis:

the seller publishes a car with a minimum price,
the auction lasts for a certain time,
Each new bid extends the duration of the auction,
Bids with a price above the minimum are automatically accepted,
the seller has time to accept offers below the minimum price.
Set up an account and try out Beyondmotors today!
Pricing
Seller from Switzerland, buyer from Switzerland
Car price
Listing fee
Commission on the sale
Purchase commission
Up to 10,000.00 CHF
49.00 CHF

Free

49.00 CHF

Free

70.00 CHF
Up to 30,000.00 CHF
49.00 CHF

Free

49.00 CHF

Free

0.7%
Up to 1,000,000.00 CHF
49.00 CHF

Free

49.00 CHF

Free

210.00 CHF
Seller from Switzerland, buyer from other country
Car price
Listing fee
Commission on the sale
Purchase commission
Up to 10,000.00 CHF
49.00 CHF

Free

49.00 CHF

Free

350.00 CHF
Up to 30,000.00 CHF
49.00 CHF

Free

49.00 CHF

Free

3.5%
Up to 1,000,000.00 CHF
49.00 CHF

Free

49.00 CHF

Free

1,050.00 CHF
Seller from any country, buyer from Switzerland
Car price
Listing fee
Commission on the sale
Purchase commission
Up to 10,000.00 CHF
49.00 CHF

Free

100.00 CHF
0.00 CHF
Up to 30,000.00 CHF
49.00 CHF

Free

1%
0.00 CHF
Up to 1,000,000.00 CHF
49.00 CHF

Free

300.00 CHF
0.00 CHF
Seller from any country, buyer from any country